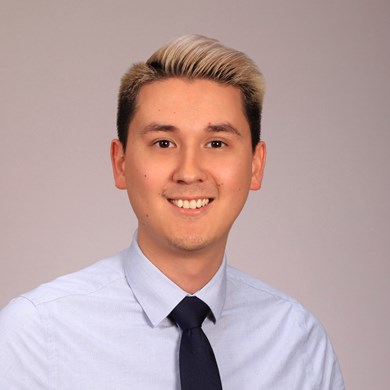 Medical Interests:
Preventative Medicine, Radiology, Substance Use Disorder
About Dr. Ring:
Dr. Ring is a first-year resident specializing in Family Medicine. He graduated Xavier University School of Medicine. He is one of the family medicine residents with the Family Medicine Residency program. This program is a collaborative partnership between Prisma Health Tuomey Hospital, the USC School of Medicine and Tandem Health.
While growing up, Dr. Ring had dreams of either excelling in the gaming world or pursuing a career in psychology. He had an exceptional talent for video games and was on track to become a professional gamer or streamer. He achieved notable success in games like World of Warcraft, League of Legends, and Starcraft II, consistently ranking in the top 99.7 percentiles or higher. However, his interests eventually shifted, and he found his calling in the medical field.
He draws inspiration from individuals who have achieved mastery in their respective fields and have overcome adversities to reach the pinnacle of success. Such stories motivate him to strive for greatness and continuous improvement in his own life and career. He is known for his analytical mindset, love for continuous learning, and passion for optimization.
Outside of medicine, he enjoys spending time with his loved ones, engaging in online gaming sessions, or enjoying meals together at restaurants. If Thomas could embody any animal, he would choose to be a dolphin. He admires their ability to explore the depths of the ocean and their joyful and social nature, always accompanied by their friends and companions.
One intriguing fact about Dr. Ring is that most people do not know is that he experienced a life-changing event on the island of Anguilla during Hurricane Irma in 2017. Stranded on the island for a week, he was eventually evacuated by the US Air Force to Puerto Rico, highlighting his resilience and adaptability in the face of challenging circumstances.