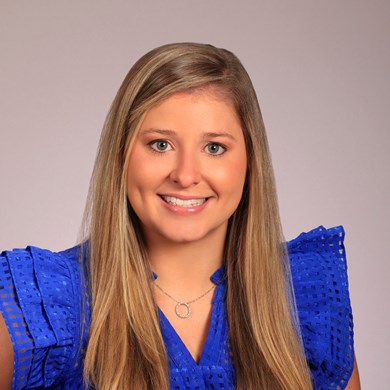 About Holly:
Holly is an aspiring healthcare professional with a strong background in nursing and a keen focus on women's health. Having recently graduated with a Master of Science in Nursing (MSN) and earned her Advanced Practice Registered Nurse (APRN) and Family Nurse Practitioner-Certified (FNP-C) credentials, Holly brings enthusiasm, dedication, and a heartwarming approach to patient care.
Holly's journey in the healthcare field began at the University of South Carolina, where she completed her nursing education. Her four-year experience as a registered nurse in Labor and Delivery has cultivated her expertise in maternal and neonatal care, serving as a solid foundation for her transition into the role of Nurse Practitioner. Holly continued her education at South University, where she achieved her goal of becoming an APRN and FNP-C.
Her medical interests gravitate towards women's health, where her compassionate nature shines. She is committed to providing comprehensive and empathetic care to women of all ages. Her desire to make a difference in the lives of her patients is deeply rooted in her personal experiences, having cared for her bedridden grandmother since a young age.
Beyond her professional endeavors, Holly finds joy in spending time with her loved ones and beloved pets, Phoebe and Goose. In Sumter, her favorite pastime is dining with friends and family and exploring the town while taking her dogs on refreshing walks. Her vibrant personality is reflected in her favorite color, pink, as she strives to radiate positivity and cheerfulness in all aspects of her life.
In her free time, she relishes moments with her friends and family, especially her nieces and nephews. She shares her husband's passion for pickleball and golf and enjoys quality time at the lake. Her vibrant social life and hobbies make her a well-rounded and approachable healthcare provider.
Holly draws inspiration from her family, shaping her commitment to providing compassionate care. Her aspiration is to leave behind a legacy of kindness, compassion, and love, ensuring that her patients and those she encounters experience a positive and caring touch that will endure throughout their lives.